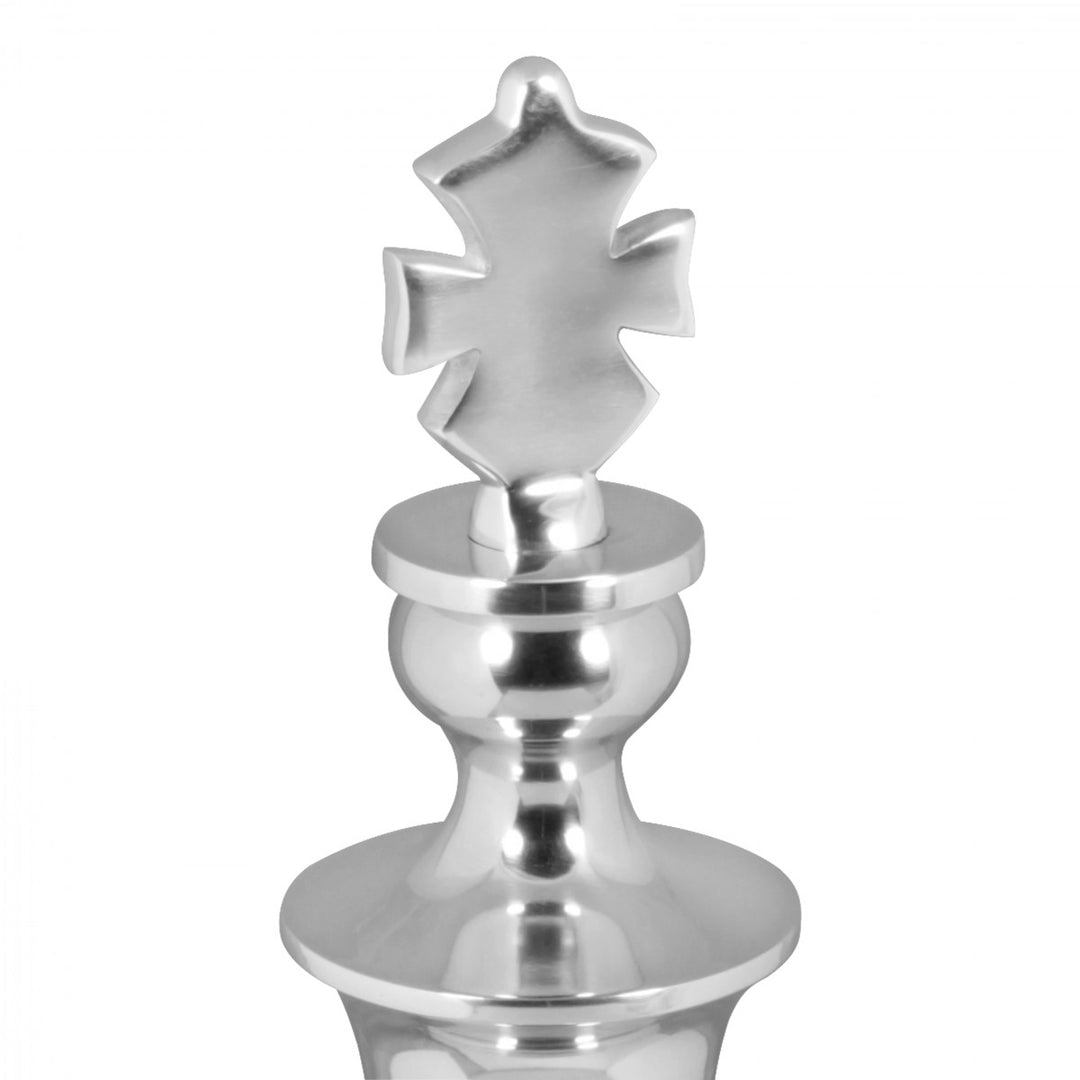 70 cm Schachfigur aus poliertem Aluminium, Silberfarben - Stilvolle Dekoration - KADIMA DESIGN
Regular price
€13727
€137,27
Sale price
€12354
€123,54
Tax included.
1-2 Werktage.

Free DE delivery
Safe installment & Invoice purchase
Highlights
Hochwertige und stilvolle Dekoration aus poliertem Aluminium
Überdimensioniertes und glänzendes Design für einen Blickfang in jedem Zimmer
Samtbezug auf der Bodenseite schützt den Untergrund vor Kratzern
Handgefertigt, jedes Stück ist ein Unikat
Perfekte Dekoration für Schachfreunde in silberner Farbe, Abmessungen: 70 cm hoch, 22 cm Durchmesser
Die KADIMA DESIGN Große Schachfigur aus poliertem Aluminium ist eine hochwertige und stilvolle Dekoration, die jedem Raum einen edlen Touch verleiht. Mit ihrer überdimensionalen Größe von 70 cm ist sie ein absoluter Blickfang und zieht die Blicke auf sich.
Das polierte Aluminium sorgt für ein glänzendes und modernes Design, das jedes Zimmer aufwertet.
Dank des Samtbezugs auf der Bodenseite bleibt der Untergrund vor Kratzern geschützt, wodurch die Figur sowohl auf dem Boden als auch auf Möbeln platziert werden kann.
Jede Schachfigur ist handgefertigt und ein Unikat, was sie zu einem besonderen Highlight in Ihrer Dekoration macht.
Die silberne Farbe der Figur passt zu jedem Einrichtungsstil und ist besonders für Schachfreunde geeignet.
Mit einer Gesamthöhe von 70 cm und einem Durchmesser von 22 cm eignet sich die Schachfigur perfekt als Dekoelement und füllt den Raum stilvoll aus.
Verleihen Sie Ihrem Zuhause mit der KADIMA DESIGN Großen Schachfigur aus poliertem Aluminium eine exklusive Note und beeindrucken Sie Ihre Gäste mit diesem einzigartigen Stück!
Delivery condition
Montiert
Our shipping partners deliver your orders to your home quickly and securely, free of charge. We have no minimum order quantity or minimum order value!

Our shipping partners are internationally renowned logistics companies such as UPS, DPD and GLS.

For goods that cannot be delivered by courier due to size or weight, your orders will be delivered by courier "free to the curb". The forwarding agent will contact you directly for a delivery date of your choice.

"Free curb" means that the forwarding company will unload the goods from the vehicle, but will not carry them further to the home or business premises. Delivery is therefore made to the curb or sidewalk of the delivery address you specified when ordering. All other transport routes take place in consultation and at the discretion of the forwarding agent or must be agreed in advance with the forwarding company, which may result in additional costs. As a buyer, you should ensure in advance that there are enough people on site when the goods are delivered.